Water Damage in Rockland
Water Damage Restoration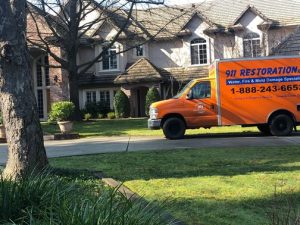 When you discover your property is experiencing a Rockland water damage emergency, you need a water restoration company that will take quick action to save the day. 911 Restoration offers 911 water damage experts services 24/7/365. Because we know you don't have a second to spare, we guarantee an arrival time of 45 minutes or less. Call us at (845) 210-5671 and allow us to offer you a free visual inspection.

Whether you're dealing with a simple ceiling leak or full-blown house flooding, our water extraction experts are here for you. They do it all, from emergency roof repair to storm repair and leak detection. Upon arrival, they pack out and store unharmed belongings to prevent any additional damage during the water removal process. After water removal, our flood cleanup team brings in professional blowers to completely dry the affected area. 
That's not where our water damage restoration efforts stop. We believe in the Fresh Start attitude at 911 Restoration, so don't consider the job done until your property is fully restored. That's why our team conducts structural testing and a mold inspection. If they find any damage or an infestation, they handle repairs and mold remediation themselves. 
Rockland water damage is an emergency, but we see it as an opportunity to rebuild stronger than ever. If you're ready for a Fresh Start, call 911 Restoration for water damage restoration in Rockland County, Pomona, Haverstraw, and the surrounding areas. 
Service area map
Sanitization Services and Disinfection Solutions
Property owners all over the world are feeling the overwhelming burden of having to maintain an extra sanitized and disinfected business right now. At 911 Restoration of Rockland, we understand this burden and we're here to help lighten your load. 
Our sanitization services technicians are fully trained in CDC and EPA protocols and are up-to-date on all the current requirements for sanitization and disinfection. You can count on our team to be thorough and precise with your property. Our sanitization and disinfection workers are informed, compassionate, and eager to help you provide your staff and customers peace of mind during uncertain times. 
We offer office deep cleaning, sanitization for residential properties, and disinfection for all commercial facilities. Call us today for a Fresh Start at (845) 210-5671.
Mold Removal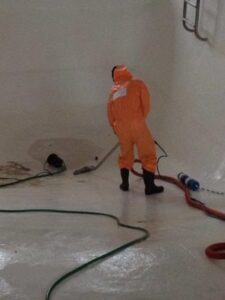 Did you know that mold can grow within 24 to 48 hours of initial water damage? That doesn't give you much time to act. If you're experiencing a water damage emergency or fear your property has a mold infestation, don't wait to call the right certified Rockland mold remediation company. 
The mold removal experts near me at 911 Restoration are available 24/7/365 to eliminate this threat for you. Our mold remediation experts conduct a thorough mold inspection upon arrival to uncover every trace of mold, and they use safe and effective removal tactics. They even protect your property against future growth by dehumidifying the structure where mold grew. Before mold remediation is complete, our team examines your property for permanent staining or damage. If any damage is found, they take care of repairs themselves and leave you with a home or business that feels fresher than ever. 
If you're worried your property may have a mold infestation, don't wait. Call 911 Restoration for mold removal in Rockland County, Pomona, Haverstraw, and the surrounding areas now. 
Client Testimonial
Sherry M.
"I would give them 6 stars if I could. I had to deal with a flood in my business, an absolute nightmare for every business owner. 911 Restoration came right away, and they are so professional and efficient. Even after everything was done they followed up and made sure everything was back to normal. A+ customer service. Thank you!"
Sewage Backup Cleanup
If you just discovered sewage damage on your property, you probably feel overwhelmed and like your home or business is destroyed forever. Our sewage backup cleanup flushing team is here to prove to you that a clean and safe property is possible after a disaster. 
Our sewage restoration crew is available 24/7/365 and arrives within 45 minutes of your call because we know how much of a disgusting invasion sewage backup can be to your property. They take quick action to minimize water damage and limit the cost of sewage restoration. Our sewage cleanup acts fast to handle sewage extraction in a timely manner, and then drys the affected area to prevent rotting and warping. 
When sewage removal is complete, our sewage restoration team sanitizes your property to fight against disease-causing bacteria and parasites. They even handle any necessary repairs, like damaged floorboards and drywall!
If your property is suffering from sewage backup, don't panic. Call 911 Restoration for sewage backup cleanup in Rockland County, Pomona, Haverstraw, and the surrounding areas and watch your Fresh Start begin. 
Fire and Smoke Damage Restoration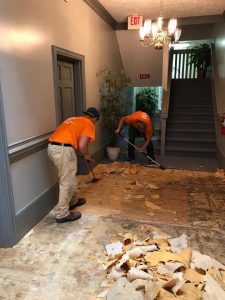 A fire in your home or business can be the most stressful experience you'll have as a property owner. Fortunately, 911 Restoration of Rockland offers the fire restoration contractors near me and smoke removal services you need for a Fresh Start.
Our fire cleanup crew is available 24/7/365 and arrives within 45 minutes or less to start the recovery process. They provide puffback cleanup, remove the odor permanently, and use soda blasting to eliminate all traces of ash. Their smoke removal efforts even include cleaning your dishes and furniture! 
If your property was left with flooding and water damage from the firehouse, our team also provides water damage restoration and flood cleanup. From your roof to your floorboards, our team gives your property the full restoration it needs. 
A fire can be devastating, but a Fresh Start is possible. Call 911 Restoration for fire damage restoration and smoke removal in Rockland County, Pomona, Haverstraw, and the surrounding areas now.  Call us at (845) 210-5671 and see how we can help.
Disaster Restoration
Whether it's your home or your business, property disasters can be a nightmare. Fortunately, 911 Restoration provides the disaster restoration services you need to fully recover. 
Our Rockland disaster restoration staff is IICRC certified and trained to confront any disaster you could face. Whether you need fire cleanup, smoke removal, mold remediation, or water damage restoration, we're here for you. 
Our disaster restoration technicians treat your property as if it were their own. They know exactly what it will take to get you back on your feet and they live with a Fresh Start mentality. 
Whatever you're going through, don't force yourself to go through it alone. Our disaster restoration staff is here for you. Call for a Fresh Start in Rockland County, Pomona, Haverstraw, and the surrounding areas.
Commercial Restoration
Your business is your livelihood, so when you're faced with a property disaster the future can feel uncertain. That's why 911 Restoration of Rockland provides commercial restoration services 24/7/365 with a promised arrival time of 45 minutes or less. 
No matter the disaster you're facing —we're here for you. We hold our commercial restoration staff to the highest standards and value empathy as a team. 
Whether it's a frozen pipe burst or a property fire, we worked hard and tirelessly to give you the Fresh Start you deserve. Call 911 Restoration today for commercial restoration in Rockland County, Pomona, Haverstraw, and the surrounding areas. Call us at (845) 210-5671.