Sewage Backup
After sewage backup in Rockland, your home may be uninhabitable, but fret not, as 911 Restoration Rockland is here with our sewage backup New City team in order to bring you the fresh start you need after a home accident as such.
Whenever you need us we will be there, as we are available 24/7/365 at 845-210-5671 with same-day service.
We believe that second chances should be given to whomever is in need of one because everyone deserves a renewed tomorrow.
You have worked too hard for you home and your peace of mind for it to be taken from you.
This is why when you call us, we will be there within 45-minutes. The sooner we get to you, the faster you can rest.
If you are in need of a company that values honesty and integrity, then call the positive professionals at 911 Restoration Rockland County today!
Avoiding Sewage Backup Cleanup

We know how halting a water damage related incident can be, which is why we are here today to let you know  about the ways that can help you avoid raw sewage from inundating your home.
Some important things to know about water damage restorations:
First, we need to begin to understand the processes of backup to truly begin practicing ways in order to avoid it. A blockage or a burst is how sewage can flood your home, so in order to keep that under control, then you need to take care of your pipes.
Never throw anything such as plastic, paper, or health care products into the toilet. Even things that say water soluble take to long to dissolve, so they contribute to back up.
Then, be aware of the conditions of your pipes. This is as simple as knowing when they are beginning to have problems.
Trembling pipes and gurgling toilets are ways in which damages can begin happening. If you notice this, do not buy dran-o as a means to get rid of a clog.
The reason being is that it can weaken the integrity of your lines, meaning that the next time a blockage occurs in can swamp your home.
Whatever the problem you may be facing, trust that 911 Restoration Rockland County can pull you through, so give us a call at 845-210-5671 today!
Sewage Backup is No Match For the Fresh Start Attitude

Take this restoration story as an example of what we can do for you. On a cold day a New City resident had forgotten to leave the heater on in their home during the day, so when that sub-zero temperature dropped, her pipes froze.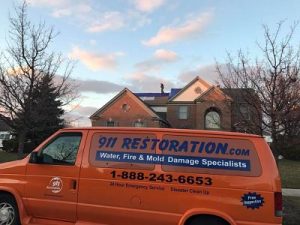 Now water from a pipe burst is considered category 1 damage, but waste from a sewer line is considered a category. So, when the waste line finally burst, she was expecting water to had flooded her basement, but we she got instead was the heavy smell of something else.
Confused, she called us. And we informed her to not come in contact with the water, as category 3 is a threat to human health. We arrived to her within the hour, and began remediation efforts.
We started off by vacuuming out the sewage and safely disposing of it. Afterwards we brought in dehumidifiers and blowers to begin the drying process.
It started off with simple water damage removal, then we used our more advanced deodorization techniques as to leave no evidence that there ever was sewer backup in Rockland.
Then we worked with the homeowner's insurance company to get the entirety of the job covered.
If you are in need of a sewage backup New City restoration company that will go the extra mile for you, then call 911 Restoration for the best care possible today! call us 845-210-5671