Disaster Restoration Rockland
Disasters come in varying shapes and sizes, though the most common type is water damage, which envelopes everything from a pipe burst to a hose leak, and that is why you need the professional abilities of the experts with 911 Restoration Rockland to take care of it all for you.
Then there is fire damage and sewage backup, and those usually follow other major disasters such as earthquakes or floods.
Regardless of what type of disaster you are facing, you can trust on 911 Restoration Ramapo and our disaster restoration Ramapo response team to be there for you 24/7/365 with same-day service.
We know disasters can happen quickly, so we promise to be at your door within 45-minutes.
It is what it takes to deliver you a fresh start in the most reliable way possible, so give us a call today!
Disaster Remediation and a Fresh Start
Our sophisticated network of nationwide franchises allows us to share the latest news in weather, advancement of technologies, and techniques needed to bring the most proper restoration to our customers.
Some important things to remember about water damage:
Most water damage situations can be prevented through home maintenance such as cleaning gutters, downspouts and other areas.
Checking sump pumps once a year or so will ensure they are working properly and fully capable of eliminating any excess water that enters your lower levels.
Pipes that have rust on them, or puddling below them may be stressed and ready to burst. Replace them before this happens.
Repair, replace, or reposition any roofing shingles that are dislodged or damaged as these are a prime source of water damage intrusion.
Therefore, you can trust us in bringing you a fresh start attitude when you need it. The attitude is only a small part of what we bring, as the fresh start is all about you.
We make sure to start restoring your peace of mind the moment we walk through your door. That is, everything that can be done to restore your ability to rest and breathe easy is performed.
For example, 911 Restoration Rockland works with your insurance company, so that you do not have to jump through their numerous hurdles to get that which for you are entitled.
Moreover, we value positive professionalism. We care about you and your home. You will be given an honest estimate you can trust in our free home inspection and damage estimate. If you are in need of a company you can count on, then call our damage restoration Ramapo team at 911 Restoration.
A Story of Disaster Restoration
Take this disaster restoration story as an example of what we can do for you. In 2011 a Ramapo resident experienced a bout of water damage brought on by a tree that fell onto her property. Harsh winds had torn it from its root, and then lifted it onto her patio covering.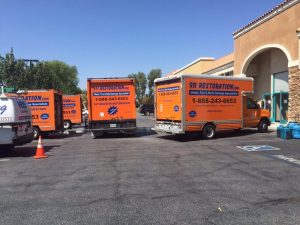 The support beams collapsed, and it demolished a series of exposed pipes, unleashing gallons of water that flowed into her living room.
Fortunately for her, we were there within the hour with our IICRC certified disaster restoration Ramapo team. We began by removing all the debris, so that we could immediately start vacuuming out water from her living room.
After that, we brought out our industrial grade dehumidifiers and blowers to dry the room out even faster. Luckily, we know exactly how to deal with water-damaged carpets, so we pulled out the afflicted areas because the bottom foam layer is highly susceptible to mold.
The best part about all of this is that the job was completed in two days, and thanks to our expert documentarian skills, we were able to get it completely covered by her insurance company.
If you are in need of a fast and affordable disaster remediation solution, that includes a team of professionals that care about you, then call 911 Restoration Rockland for the best help you can find today!