Water Damage and Mold Removal Monsey
When it comes to a fast response time in the middle of a water disaster, homeowners can count on the water damage Monsey techs at 911 Restoration of Rockland to be there within 45 minutes.
With so many years of experience in the field, our IICRC certified mold removal Monsey pros have been faced with every type of flood or leak, so we are qualified to provide you with:
Pipe bursts remediation

Toilet overflow sanitization

Washer hose bursts correction

Mold infestation clean up

Water heater leak repair

Fire sprinkler malfunction restoration

Flooded basement water removal
We implement same day services for all water-based emergencies, because our water damage Monsey agents know how important it is to get water off the premises quickly.
Our mold removal Monsey experts are available 24/7/365, making is possible for us to help you the moment you find yourself dealing with invasive water. So, call our professionals today and we will provide you with a free home inspection as soon as we arrive on the scene.
Check Your Plumbing Joints To Avoid Water And Mold Damage
Your plumbing can be a great source of water damage when it is not maintained correctly, but our water damage Monsey agents know everything there is to know about plumbing, so you can stay calm when we are on the job.
Homeowners can temporarily fix plumbing issues, which will help prevent mold growth from setting in by following some tips recommended by our mold removal Monsey specialists:
Remove the fitting and use plumber's tape or pipe dope to coat the threads.

Make sure the joint is tightened again

If the gasket is broken.create a gasket out of cardboard or leather and use that to covered with tape or pipe dope.

Use plumber's grease to cover the compression nut ferrules and tighten up the compression nut.

As a fail safe, wrap the entire joint in repair tape.
In order to prevent leakage it is crucial that you check the joints on the pipes. When pipes are not sealed properly then they can leak. Call our water damage Monsey pros the moment you notice your pipes are even the slightest bit damp and we will do whatever it takes to get your plumbing system back on track.
Our Leak Repair Techs Always Offer Affordable Services
In order to make this process as easy as possible, our licensed, bonded and insured mold removal Monsey team offers affordable prices on all flood damage restoration and fungus infestation services.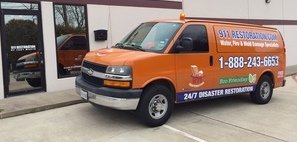 After your home becomes inundated with water, our water damage Monsey pros understand that it can be overwhelming once it hits you that you now have to pay for the repair.
Our mold removal Monsey staff also works with all major insurance companies in order to keep your out of pocket expenses as low as possible.
To make sure that you get the proper financial aid, our mold removal Monsey technicians will even file your claim for you. With so many years in the home restoration industry, we know exactly what information your provider needs to get you the best coverage possible. 
Call our water damage Monsey technicians with 911 Restoration of Rockland and we will give you the fresh start you deserve in no time at all today!